We've all been there. You're in the middle of a conversation, and a friend asks you to describe an experience that's unfamiliar to them. Maybe it's a a foreign city you recently explored, or a delicious meal full of new flavors. You try to convey your thoughts in a way that makes them feel as though they were there with you, but you just can't find the words.
For many interior design clients, describing personal style preferences is a similar scenario. Your taste is likely based on spaces you've seen or experienced, so it's only natural to attempt to bring the other person into that space, using adjectives like "clean," "cozy," "modern," or "rustic." However, these terms only serve as broad descriptor words, rather than concrete style names, so they tend to leave the listener with a vague impression of the clear picture in your head. With a more specific and well-rounded design vocabulary, you'll not only narrow down your Pinterest searches, but also enter into your interior design consultation with more confidence in your design identity.
So, we've compiled a list of 12 common interior design styles to help you put your style into words. You might only resonate with one of the photos, or you may find that you're drawn to two or three of them. Yes, it's ok to love more than one style! Take a look at these 12 photos, select up to three favorites, and then scroll down to read more about each of them (Tip: Click on a style name for an entire blog post on that style!)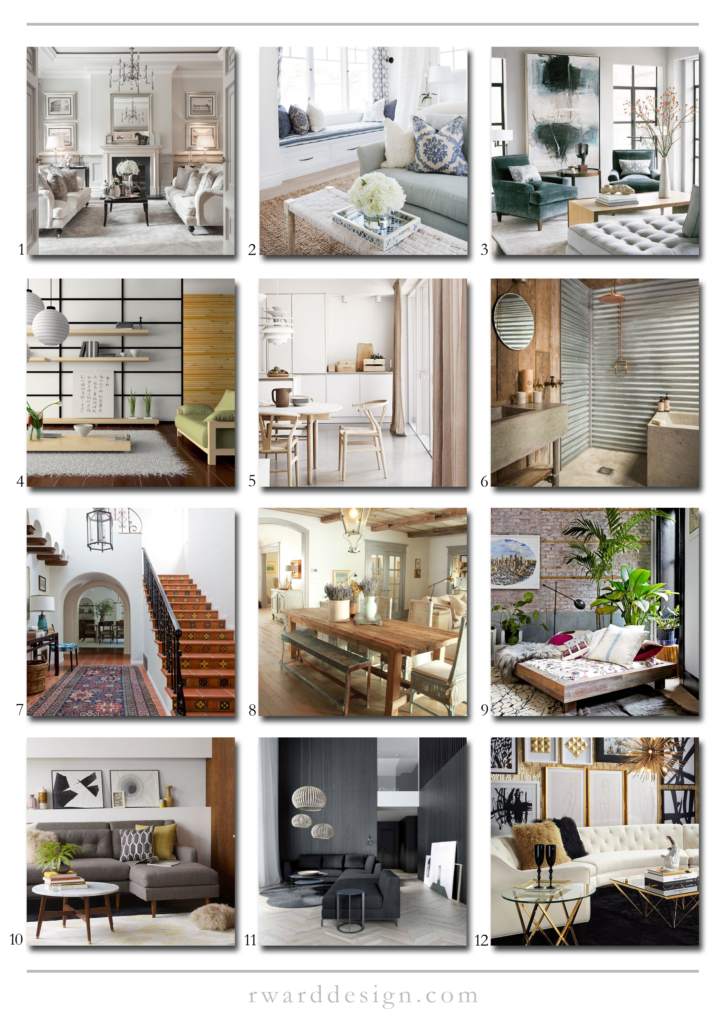 1. Traditional
Traditional or Classic style interior design is rooted in old English and French styles of decor. Casegoods and cabinetry in this style tend to be elaborate and intricately carved, while the upholstery is more sensual, with tufting, scroll details, curved legs, and roll-top arms. Patterned fabrics, such as chinoserie and lace, are abundant, and usually accompanied by trims, tassels, and tapes. Darker wood tones, brass fixtures, and symmetrical placement of furniture and accessories are also common characteristics of this style.
2. Cottage
Cottage style encompasses a few different sub-styles, including the East Coast Cottage, the Tommy Bahama Cottage, and the Crafstman Bungalow. The East Coast Cottage is light and beachy, with plenty of white beadboard, slipcovered sofas, blue accents, basketweave tables and chairs, and sisal rugs. The Tommy Bahama Cottage is also light and bright, with many of the same features, but with more of a bohemian, island-resort feel, and an abundance of greenery and cane furniture. The Crafstman Bungalow is a darker, earthy version of the cottage style, boasting heavy, hand-crafted woodwork. All of these styles embrace sturdy, comfy furniture, natural fibers, and wood beams and floors, creating an overall cozy effect.
3. Transitional
Transitional interior design is a mix of traditional and contemporary styles. It features simplified curves, which pay homage to its traditional roots, without the ornate detail. It also tends to lend itself more to comfort and coziness than true contemporary, making it inviting and livable. Most transitional spaces start with a neutral color palette as a base, adding visual interest with small pops of color and plenty of texture and pattern. Since this style came about as a way to bridge between two other styles, it's safe to mix in the occasional traditional light fixture or contemporary coffee table to create the perfect balance.
4. Zen
Zen interiors put an Asian twist on contemporary design. They usually tend toward minimalism, with low, flat surfaces, geometric profiles, and very few embellishments or curves. Zen style works well with natural materials, especially sleek wood and smooth pebbles. A trademark element of Zen interiors is the sliding shoji door, which uses paper, rather than glass, to cover its geometric cut-outs. Asian motifs, such as cherry blossoms and bamboo, are also prevalent in this style.
5. Scandinavian
Scandinavian style is another form of modern minimalism. A true Scandinavian space will feature bright white walls, blonde furniture, and light-colored finishes. Chairs and tables in this style are usually light and airy-looking, and decorations are kept to a minimum. The few accessories that do occur are neutral or whitewashed, but full of texture, such as sheepskin rugs and woven wall-hangings.
6. Industrial
Industrial interiors aim to highlight the concrete, metal, repurposed wood and other rough materials commonly found in factories and warehouses. They often seek to expose the building's bare bones and inner workings, such as pipes and i-beams. Industrial style furniture usually has a rugged and tough look to it, embracing the behind-the-scenes details, like rivets and welding, that normally would be kept hidden below fabrics or varnish. Worn-in leather and natural woven materials, such as burlap and jute, make great accents for industrial spaces.
7. Spanish
Spanish style interiors feature plaster walls with arched openings, terracotta floors and pottery, wood beams, and ornate, hand-painted tiles. Traditional Spanish homes include wrought iron decor, pillows and hand-knotted rugs with vibrant patterns, and dark, walnut-colored furniture. Updated Spanish homes, often referred to as Santa Barbara Spanish, can be distinguished by their bright white walls, cobalt blue accents, and coastal-inspired furnishings.
8. Country
Country is a fairly broad style, covering several sub-styles. Shabby Chic and French Country, for instance, tend to be more delicate, with lighter colors and subtly feminine details. A more woodsy, masculine take on Country, with dark wood walls, stone fireplaces, heavy wool rugs, and fur throws, would result in a Cabin-style interior. Farmhouse and Americana interiors are sub-styles frequently featured on HGTV's Fixer Upper, with an abundance of shiplap, lantern-style light fixtures, and sliding barn doors. The overarching characteristics of Country style interiors include rustic wood, repurposed objects, gingham and plaid patterns.
9. Bohemian
Bohemian style is an eclectic, well-traveled style of interior design, full of texture and vibrant colors and patterns. Though it works well with contemporary furniture, it's influenced by many old-world styles, including Mediterranean, Persian, and Middle Eastern styles. The hallmarks of Bohemian interiors include Turkish rugs, macrame, antiques, flea market finds, and an abundance of plants.
10. Midcentury
Midcentury Modern design is a style that began developing in the 1950s and 60s, or mid-20th century. While it's largely an American style (think Mad Men), it is rooted in the teachings of the Bauhaus – a German art school. Some of the key characteristics of Midcentury design include streamlined furniture that's lifted off the ground on tapered or hairpin legs, walnut wood casegoods, and vibrant upholstery in colors such as chartreuse, orange, and teal. For even more style inspiration, don't forget to take a look at the classics: Charles & Ray Eames' Lounge Chair, Eero Saarinen's Tulip Table, and George Nelson's Comprehensive Storage Unit for Herman Miller, to name a few.
11. Contemporary
Contemporary design is a clean, sleek style, that is essentially the complete opposite of Traditional design. It features simple lines without embellishment, and sharper angles in place of delicate curves and scroll details. Most contemporary interiors use a neutral color palette, with heavy emphasis on grays, taupes, and creams. While there's room for a pop of color in any interior, the majority of visual interest in contemporary spaces comes from varied textures, subtle patterns, and natural fibers in tonal colors.
12. Glam
Glam style takes its inspiration from both the Art Deco era and Hollywood Regency era. Glamour and luxury are the main focus of Glam interiors, boasting velvet upholstery, fur throws, metallic or mirrored casegoods, and lacquered side tables. For interiors that lean more toward the Art Deco side of Glam, geometric motifs with black and white finishes can be a great addition to the space. If Hollywood Regency is more your style, try adding a damask print chair and some dramatic lighting.
Now combine your favorites to find your unique style. One of RWD's designers swoons over Transitional Glam, while the other has a Midcentury Bohemian obsession – we'll let you figure out who's who. What's your style combination? Share it in the comments below! And for more information about each of these styles, and how to implement them in your home, contact us! We'd love to hear from you.
XOXO,