Everyone loves a good quote, something to inspire us, reassure us, and comfort us. If you follow our Instagram and Pinterest boards, you know we are no exception to adoring wise words from others. As the seasons change, I feel it is the best time to reflect on the past season and dive into the next with your head held high in inspiration and motivation. We've put together a list of all our favorite quotes to share, so enjoy and write down your favorite ones to reflect on and share with others.
50 Beautiful Quotes
I'm going to make everything around me beautiful – that will be my life." – Elsie De Wolfe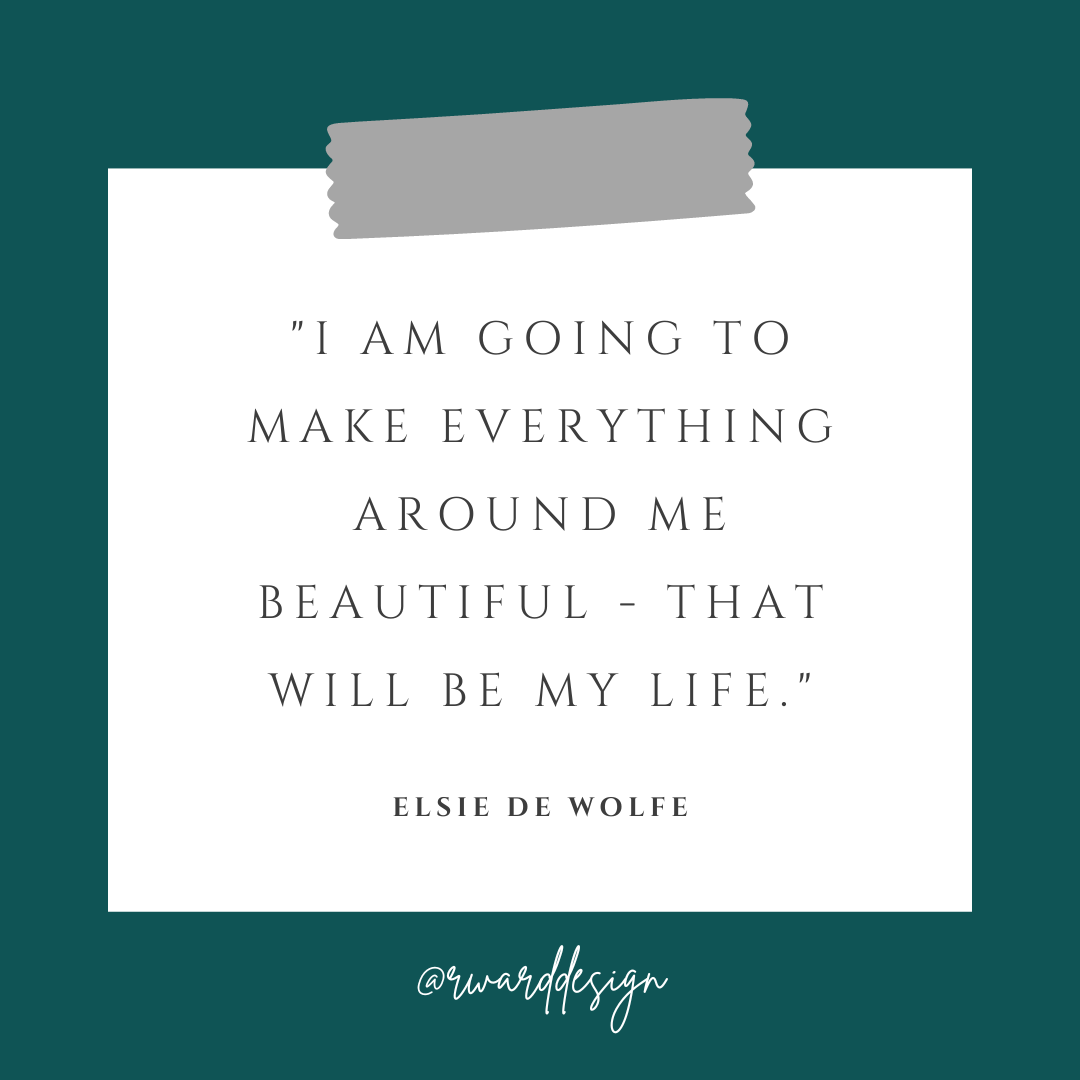 "Your task is not to foresee the future, but to enable it."
"You are the greatest project you will ever work on."
"It is better to look ahead and prepare, than to look back and regret."
"Everyday gives you an opportunity to be better."
"It isn't what you have or who you are or where you are or what you are doing that makes you happy or unhappy. It is what you think about it." – Dale Carnegie
"Whenever you are creating beauty around you, you are restoring your own soul." – Alice Walker
"Instead of worrying about what you cannot control, shift your energy to what you can create."
"The minute you stop making mistakes is the minute you stop learning."
"Don't adapt to the energy in the room. Influence the energy in the room."
"You've made this day a special day, by just your being you. There's no person in the whole world like you. And I like you just the way you are." – Fred Rogers
"You are allowed to be both a masterpiece and a work in progress simultaneously."
"All we have to decide is what to do with the time that is given to us."
"We cannot become what we want by remaining what we are." – Max Depree
"It is good to have an end journey towards, but it is the journey that matters, in the end." – Ursula K. Guin
"Don't be perfect, just keep getting better."
"Incredible change happens in your life when you decide to take control of what you do have power over instead of craving control over what you don't."
"Create a beautiful place inside of yourself and then begin to expand and build outward."
"Always be a first-rate version of yourself, instead of a second-rate version of somebody else."
"Purpose and direction are not enough without efforts and courage."
"Change is the law of life. And those who look only to the past or the present are certain to miss the future." – John F. Kennedy
"Never forget how wildly capable you are."
"The only thing that you have that nobody else has is you. Your voice, your mind, your story, your vision. So write and draw and build and play and dance and live only as you can."
"Those things that scare you, that come with the uncertainty and doubt, those are the things that are likely to set you free. Life is way too short to feel stuck where you are."
"Continuous effort, not strength or intelligence, is the key to unlocking our potential."
"You are stronger and smarter than you let yourself be."
"Forgive yourself each night and re-commit each morning."
"The beauty you see in anything is a reflection of the beauty in you."
"When I dare to be powerful, to use my strength in the service of my vision, then it becomes less and less important whether I am afraid." – Audre Lorde
"May you always be the one who notices the little ways light pours through, reminding you within the chaos there's more to life and more to you."
"She believed she could, so she did." – R.S. Grey
"If you ask me what I came to do in this world, I, an artist, will answer you: I am here to live out loud." – Emile Zola
"Don't let the success of others discourage you, let it inspire you."
"Low self-esteem is like driving through life with your hand break on."
"If you don't like something, change it. If you can't change it, change your attitude."
"If it's out of your hands, it deserves freedom from your mind too."
"Be stubborn about your goals, but flexible about your methods."
"Be brave enough to find the life you want and courageous enough to chase it."
"The most reliable way to predict the future is to create it."
"Do not discourage yourself with what you haven't done, encourage yourself with what you will do."
"It is worth remembering that it is often the small steps, not the giant leaps, that bring about the most lasting change." – Queen Elizabeth II
"One must give value to their existence by behaving as if one's very existence were a work of art."– Friedrich Nietzsche
"If you're avoiding failure, you're also avoiding success."
"Every decision you make should support the person you want to be and the life you want to create."
"Love yourself when you succeed and when you fail."
"Don't compare your life to others. There's no comparison between the sun and the moon, they shine when it's their time."
"The future belongs to those who believe in the beauty of their dreams." – Eleanor Roosevelt
"A secret to happiness is letting ever situation be what it is instead of what you think it should be and making the best of it."
"Your direction is more important than your speed."
"Every day do something that will inch you closer to a better tomorrow." – Doug Firebaugh
We hope you found inspiration in some of those quotes. Let us know which is your favorite!
XOXO,